BIOFUND raises two separate types of funds: Funds for Investment (Endowment), and funds for direct application (Sinking funds):
Investment funds are funds invested over the long term, where the income from the capital can be mobilised, but without using the capital fund itself.
Funds for direct application (Sinking funds) are funds in which the value of the grant is used in its entirety, for financing that has generally been defined in advance with the donors. This is the "classic" mode of external financing through specific projects.
Setting up the Endowment and making it profitable
The effort to raise investment funds began even before the formal creation of BIOFUND, in the days of the Committee of Founders. But only after the structuring of the Foundation was it possible to set up the conditions for the phase of negotiations with the partners. This demanded from BIOFUND the establishment of functioning routines, harmonised with the standards demanded by the regulations of the main partners. The positive assessment of the consolidation of BIOFUND, in 2014, was fundamental in the decisions of various donors to contribute to the constitution of our endowment which, by the end of 2016, had reached 21.6 million USD. This sum includes contributions from German Cooperation via KfW (80%), World Bank/GEF (15%) and Conservation International/Global Conservation Trust (5%).
With the income resulting from applying a part of this endowment, BIOFUND will increasingly finance conservation in Mozambique.
Growth of the BIOFUND Endowment (2012 - 2017)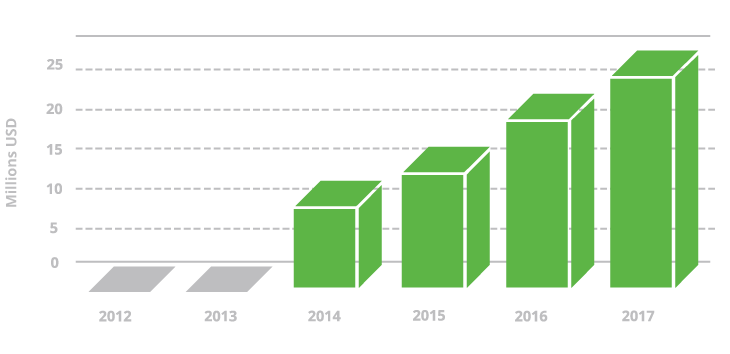 Funds for direct application (Sinking funds)
With the growing reputation of BIOFUND as an independent and well managed body, the institution has also been successful in raising funds for direct application.
By early 2017, BIOFUND had drawn up agreements with two donors, the French Development Agency (AFD) and the World Bank through its MozBio programme, to channel and follow funds for the Conservation Areas. It is forecast that, by 2020, BIOFUND will have distributed about 5 million USD to the ACs from these sources.