Mozambique's wealth in natural resources can also be expressed by the number and importance of its ecological regions.
Although there is not a total coincidence of criteria between the various systems for classifying ecological regions, there is unanimity in recognising those whose importance transcends the local level or the regional framework.
Among the 14 ecological regions that exist in Mozambique, some are regarded as of global importance:
The Agulhas Current;
The East African Coastal Ecological Region;
Rift Valley Lakes;
Southern Rift Mountain Forests;
Southern African Mangroves;
Eastern and Southern Miombo Forests;
Zambezi Delta Wetlands.
Mozambique is the habitat of a rich flora, with 5,500 plant species of which 250 are endemic, a terrestrial fauna with 740 species of birds, 80 species of reptiles and amphibians (of which 28 are endemic) and 3,000 species of insects.
Of interest for tourism is the occurrence in Mozambique of all the iconic species of wild life, notably elephants, buffalo, hippopotamus, lions, leopards, hyenas, wild dogs and crocodiles.
The marine and costal biodiversity is of global importance. With more than 2,700 km of coastline, Mozambique has a high variety of species of coral, the second largest extension of mangroves on the African continent, important concentrations of whale sharks and manta rays, and the only viable population of dugongs in the entire western Indian Ocean.
New species, such as, for example, of bats and sea slugs, continue to be discovered when scientific missions visit isolated and remote areas in Mozambique.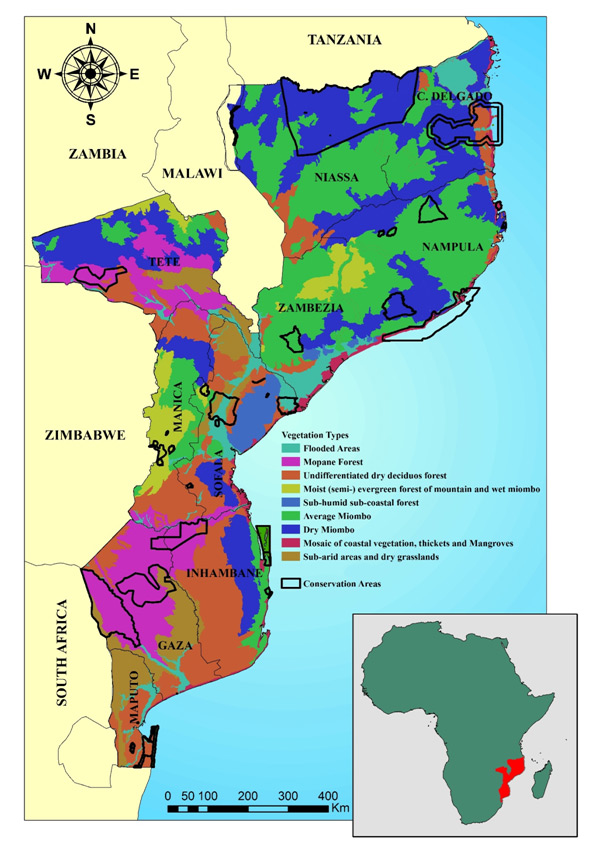 "Look deep into nature and then you will understand everything better."